A message from District Governor Brigid Hendy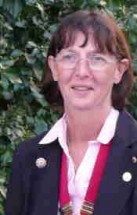 Four weeks and counting!!
Hi all
After 2 years of negotiating and planning we are now less than four weeks away from the culmination of any District Governors year - the Annual District Convention.
By now you will have received your convention booklet at your club. Cabinet will not be on Friday afternoon, instead it will be Saturday morning before convention starts allowing those still working to take less time off work on the Friday and for those not working more time to enjoy the leisure facilities the hotel has to offer. I have tried to streamline the business session whilst retaining the purpose as our Annual General Meeting. Like IPDG Judith last year I have asked the International Guest to speak in the morning session before the reports and during the afternoon session I have introduced a session called 'Celebrate Success' where selected clubs/individuals will have eight minutes each to tell us of a successful project they may have undertaken as a club, zone or at District level.
On Sunday morning there will be the usual opportunity to quiz the International Guest followed by three concurrent workshops - Leadership, Membership and Membership Retention using the Ideal Club workshop. We then come together again for some elevenses - hot breakfast rolls and other goodies - whilst we feedback from the workshops and finish 12.00/12.30
Let's not forget the social side as well. By now you will have seen we have the Round Britain buffet on the Friday night before a demonstration of Irish dancing and following that try the dancing yourselves with the Beer and Baccy Ceildh Band. No fancy dress is required but please feel free to dress up if you wish. Saturday night sees the formal District Governor's Banquet and Ball with dancing to 'Solace'.
I am certain that Steve Spencer as Host Committee Chairman and Travis McCall as District Convention Business Manager have done their utmost to ensure that all bases have been covered and that you all will enjoy an occasion to remember in 2011 - a truly 'Celtic Experience'.
I look forward to meeting with you all in Old Windsor on 18/19/20th March 2011
Kind regards
DG Brigid